The FanFile ranks the area's best playing surfaces through the eyes of coaches, players, and Ted Mercer, of the Mercer Group. Our thanks to those who took the time to share their opinions!
---
1. Troy Memorial Stadium…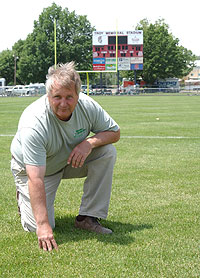 The turf at Troy's Memorial Stadium rates as the area's best.
Troy's surface gets the overall nod for its combination of turf quality…and speed. It, like many other facilities in the area, gets an incredible amount of traffic, including high school football, boys and girls soccer, and it's a regular site for OHSAA playoff games. It's secret? A financially feasible version of the prescription athletic turf concept featured in many more prominent sports edifices across the country. Memorial Stadium features a turf that can be cut shorter, drains superbly and provides the smoothest playing surface of any high school facility in the area. State-of-the-art irrigation and constant supervision of the Mercer Group keeps this surface looking great all year long.
---
2. Ed Smith Field (Covington)…

We don't know who Ed Smith was (as in Ed Smith Field), but he certainly has to be smiling at the reputation for the grass surface of his football field. It's so nice, and so plush, one league coach described it as being like a trip to the Super Bowl for his kids…just to get to play on Covington's spectacular grass. The Buccs do it up right, with great graphics and color in their decoration of the surface, but a critic points to the fact that it's very slow to play on. "That field is always worth a step to Covington when they're playing a team with a quick running back," says a rival coach. "But hey, it's a beauty." The fact that there's no soccer at Covington keeps this field in peak condition every night of the season…rain or shine!
---
3. Troy Christian…

The Eagles' brand-new facility opened in 2002 with a custom-sod playing surface that's beautiful to look at, but according to Mercer, has yet to see its best days. "It's a field that's so new it hasn't had time to mature. Typically it takes about three years. It's a nice surface, though, with a good grade (crown) and sub-surface. It should be good for years to come."
---
4. Valley View…

Valley View has done it up right…with a total renovation of their football facility, complete with a new amended sub-surface, proper drainage and bluegrass sod. "That's a field that will be good for a long time because they've incorporated all the variables that will make it easy to keep…a sand base, drainage and they don't play soccer on it," says Mercer. "It'll be a beauty come September."
---
5. Tipp City…

Tipp's ballyard in the park has come a long way in recent years…again, a result of better management. "It used to be when you came into Tipp on a rainy night it was a greasy, slick mess," says a rival coach. "No more…they've really fixed it up." Others comment that it has too much crown, but for overall playability, it's a very nice surface.
---
6. Piqua…
The turf at Piqua's new Alexander Stadium has yet to mature as a premier playing surface.
One comment heard about Alexander Stadium when it opened was, "…hope the playing surface matches the amenities." One of the state's newest and best high school facilities, the playing surface of Purk Field is a mixture of rye, fescue and blue grasses…that while durable, makes for a somewhat uneven and indifferent surface. "It looks better from the stands than it does if you're on the field," comments one league rival, "but it's better than ours…and most of the others we play on." Ironically, the old Wertz Stadium features one of the area's best turf surfaces. Dedicated solely to soccer now, it has benefited from the Mercer touch. "It gets a more realistic amount of traffic than it used to and the rye surface has really performed well," says Mercer. "It looks good and plays good."
The FanFile
©2002 FanFile.net, All Rights Reservered.